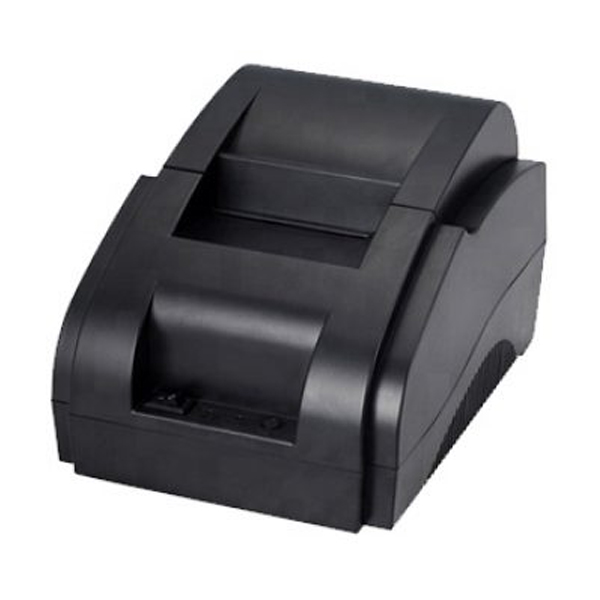 58 mm Thermal Receipt Printer
Tcang 58 mm thermal receipt printer adopts sleek and simple design, simple structure, simple operation, light and small body, easy to carry, no ribbon printing, saving environmental protection.
Printing Speed: 90mm/s
Interface: USB
Printing Method: Direct thermal
What is the feature of thermal receipt printer?
1. The thermal receipt printer has a built-in data buffer that can receive data when printed.
2. Supports different density bitmap printing and download graphics, and supports network print status monitoring. Computer print more connections.
3. Support for printing in different languages.
4. Can be enlarged, bold characters printed, can also adjust line spacing and paragraph spacing to print characters.
5. Compatible with ESC / POS print instruction set. Each optional print character and font.
6. Reasonable structure. Easy to operate and maintain. Low consumption. Low operating costs.
Specifications of Thermal Receipt Printer
Printing

Printing method

Direct thermal

Print width

48mm

Column capacity

384 dots/line

Printing speed

90mm/s

Interface

USB

Printing paper

57.5±0.5mm×φ65mm

Line spacing

3.75mm (Adjustable by commands)

Column number

58mm paper: Font A – 32 columns/Font B – 42 columns

Chinese, traditional Chinese – 16 columns

Character size

ANK, Font A: 1.5×3.0mm (12×24 dots)

Font B: 1.1×2.1mm (9×17 dots) Chinese, traditional

Chinese: 3.0×3.0mm (24×24 dots)

Barcode Character

Extension

PC347 (Standard Europe), Katakana,

character

PC850 (Multilingual), PC860 (Portuguese),

sheet

PC863 (Canadian-French), PC865 (Nordic),

West Europe, Greek, Hebrew, East Europe, Iran, WPC1252, PC866 (Cyrillic#2), PC852 (Latin2), PC858, IranII, Latvian, Arabic, PT151 (1251)

Barcode types

UPC-A/UPC-E/JAN13(EAN13)/JAN8(EAN8)/

CODE39/ITF/CODABAR/CODE93/CODE128

Physical characteristics

Weight

0.94KG

Dimensions

235×145×125mm ( L×W×H)

Environmental Requirements

Work environment

Temperature (0~45), humidity (10~80%)

Storage

Temperature (-10~60℃), humidity(10~80%)

environment

Reliability

Printer head life

50KM
Why choose the thermal receipt printer of the Tcang?
Fast response – Due to the time difference, we guarantee a six hour or less time response. If there is a problem after the sale, we can operate remotely and solve many problems.
Experienced – We only recruit experienced professional and technical personnel, we regularly provide technical personnel with continuing education opportunities to enable them to master the latest technology.
Reputable – Tcang has been around since 2010, and our proudest achievement is that a large number of long-term customers trust us year after year.
100% Satisfaction Guarantee – We hope that you are completely satisfied with our service.
CONTACT US


Dongguan Tcang Electronics Co., Ltd.
We are always providing our customers with reliable products and considerate services.
If you would like to keep touch with us directly, please go to contact us